|
August 21, 2019
|
Other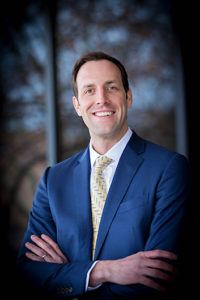 They say no news is good news. I believe that no news outlets are good news outlets, either. Most of the major national media companies are not your friend. In fact, I'll go so far to say that I believe many of them should be viewed on the same level as drug dealers pushing their addictive, harmful products on the masses. A recent blog from The Brookings Institute provides a wonderful case for why the media often takes a negative approach and why it works. Decision-makers in the press know very well that we are wired to pay ten times greater attention to negative news than positive. Division is more profitable than unity. Hate is more profitable than love. Fear is more profitable than joy.
John Stephenson phrased the issue well in his recent tweet: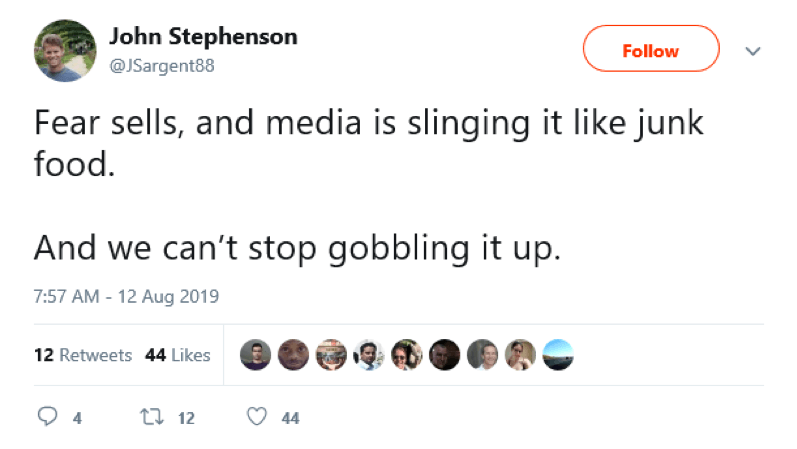 As a financial advisor, my office is often a place for clients to offload their fears. For every logical concern, such as, "My husband and I worry we will live a long time and run out of savings," I hear one like, "The market is going to crash because the president won't leave office after his term." Or, "I want to withdraw my entire retirement account because this administration wants to seize our assets." These are actual worries from clients who heard about these supposedly certain events from reputable media outlets.
The ever-prudent investor, Jim O'Shaughnessy, offers wise advice on the topic: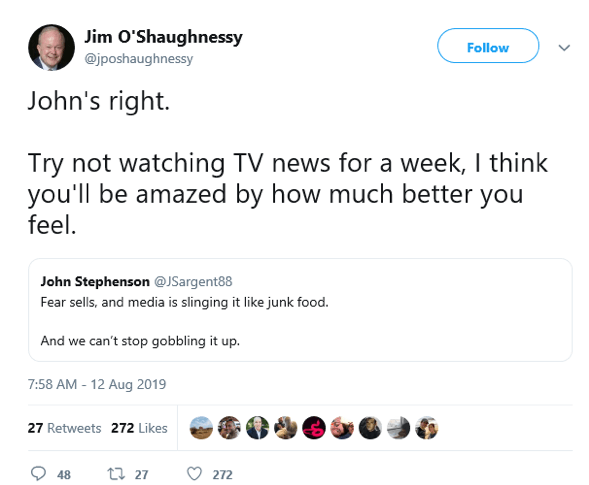 I quit television news and talk radio cold turkey five years ago. My only regret is that I didn't think to measure my stress levels before and after purging them from my life, because I am positive they plummeted. I am no less informed, but I am never panicked or angry about current events. My only interaction with the news these days comes from the TVs in front of the stationary bikes at my gym. Fellow gymgoers often give me strange looks when I burst into laughter at the biased and divisive information offered by our major news networks. I am confident you, too, will laugh at the stations you used to watch if you choose to join me on the "non-news" side. Give it a try. The harder it is to quit, the more likely it is you need the break! Turn off the TV and talk radio, and pick up a book. Follow wise and positive people on social media (Jim O'Shaughnessy is a good start). Block out the noise and get back to living life as it was before the news began turning current events into currency.
Any opinions are those of Brian Cochran and not necessarily those of RJFS or Raymond James. The information contained in this report does not purport to be a complete description of the securities, markets, or developments referred to in this material. The information has been obtained from sources considered to be reliable, but Raymond James does not guarantee that the foregoing material is accurate or complete. Links are being provided for information purposes only. Raymond James is not affiliated with and does not endorse, authorize or sponsor any of the listed websites or their respective sponsors. Raymond James is not responsible for the content of any website or the collection or use of information regarding any website's users and/or members.